The sheer number of nonprofits accepting Bitcoin donations has been steadily growing in recent years. Top nonprofits like UNICEF started accepting cryptocurrency in late 2019. On the other hand, the well-known philanthropic organization Save the Children started way back in 2013. So, there's no doubt that the move to cryptocurrency donations will eventually be on the cards for most not-for-profit entities.
However, many nonprofits still have second thoughts about getting into crypto donations. One of the most common reasons is the seemingly complicated nature of this currency. But with the right knowledge, you can make the transition a smooth and simple affair for your donors.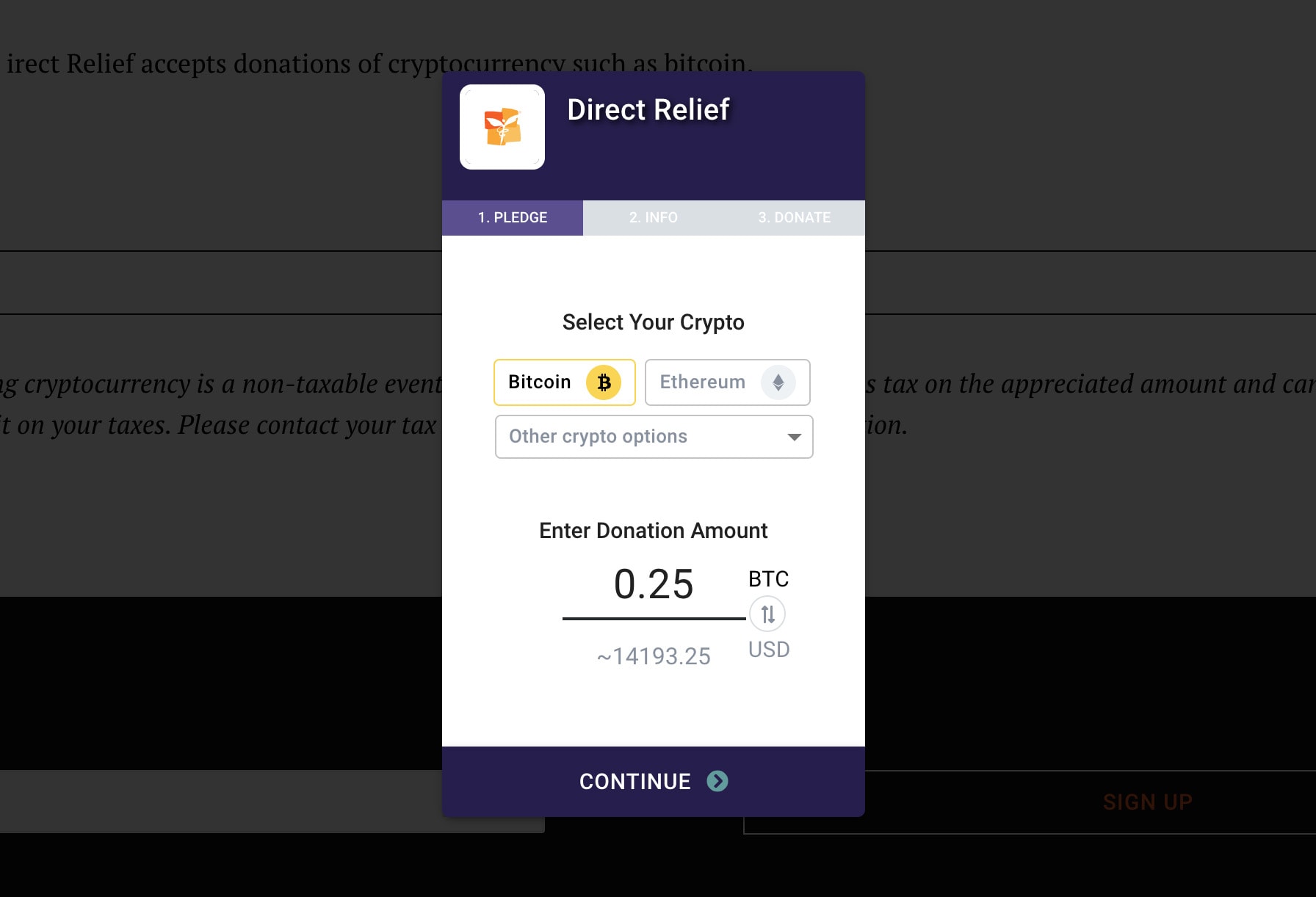 Today, we'll take you through everything you need to know about leveraging nonprofit cryptocurrency donations.
We'll start with basics like what cryptocurrency is and how it works. We'll also give you a rundown of trends in prevailing crypto donations. By the end of this article, you'll learn how to accept donations and which fundraising platforms to use. Ready to join the blockchain?
What is Cryptocurrency?
Cryptocurrency is a virtual currency that runs on decentralized networks and has secured cryptography (Hence, the name). It does not have an issuer or a centralized regulator. So, it's not controlled or influenced by a government or organization – such as banks. Instead, it's like a digital asset that exists on a network. This network is spread over a huge number of computers. Think of it as using secure digital files as money for transactions.
This decentralized network usually comes in the form of a blockchain. Blockchain technology, in simple terms, records and manages digital transactions. It uses a peer-to-peer network to form blocks of information that are linked to new blocks whenever new data or transactions appear. So, it's easy to trace and impossible to duplicate or counterfeit.
What are the benefits of accepting cryptocurrency as a nonprofit?
Today, more and more philanthropic organizations are embracing crypto donations. That's because there are multiple benefits, especially for nonprofits. Let's look at a few instances:
Firstly, you get to offer an additional method of payment to your donors. It allows you to widen and diversify your target audience. So, you have the potential to maximize your donations.
You can also enhance your brand recognition and visibility by accepting cryptocurrency. You project yourself as an organization willing to use innovation and new ideas to get your work done.
One of the biggest potential benefits here is the millennial generation. Millennials and Gen Y generations have technology and digital transactions wired to their lifestyle.  They also form the largest single generation of contributors to the economy. So, getting their attention is a no-brainer for any nonprofit.
You set yourself up as a viable alternative for Bitcoin holders who need to pay capital gains taxes. These holders will see you as a charitable solution.
You educate your well-wishers, stakeholders, donors, and employees about this new financial trend. This improvement in knowledge could very well be a philanthropic act towards society.
In some instances, crypto donations have lower processing fees than traditional credit card transactions.
Finally, you'll be among the first generation of nonprofits to work with cryptocurrency. Nonprofit fundraising is a competitive sector. Tapping into a novel and less competitive market gives you that extra resource to do bigger things.
Why do people donate cryptocurrency instead of cash?
Cryptocurrency giving does not benefit just the receivers. It has upsides for the donors too. Here are a few reasons people opt for the virtual route when choosing a currency to donate.
Tax incentives are the first and most significant reasons why donors are moving towards cryptocurrency transactions. The IRS, according to its latest updates, considers cryptocurrency as a type of property. Giving to a 501(c)3 nonprofit usually exempts the donor from capital gains tax on appreciated assets.
For holders of cryptocurrency, donating it to charities helps in widening its use and popularity. Nonprofit fundraising can have wide reach and publicity. And any financial technology that's used by nonprofits usually gets a lot of eyes. So, for existing holders, it's a way of building their market too.
Crypto donations are also incredibly convenient and fast modes of transactions. All you have to do is click a few selections, and a widget takes care of everything. It's a few steps less than, say, donating with a credit card or cash.
Bitcoin's price can often experience increases that can stay stable over time. Holders of such currency may donate entirely out of goodwill and generosity. You wouldn't want a benefactor to move on to some other charity just because you don't have a payment option.
Are a lot of people donating via cryptocurrency yet?
The short answer is yes!
As mentioned earlier, there are major charity groups already leaping cryptocurrency. Let's take the example of an organization like Fidelity Charitable, a public charity under section 501(c)3 of the IRC. Their annual report reveals the trends in crypto donations over the last few years.
FC began accepting this currency back in 2015. They got about $7 million in donations in the first year alone. These proceeds were primarily in Bitcoin. Also, back then, most other cryptocurrencies hadn't taken off just yet. In 2017 alone, they received about $69 million. The subsequent year, they received over $30 million in donations, which is less than the previous year but still a sizeable amount.
By the start of 2019, their crypto proceeds amounted to $109 million in total. So, it was the fastest-growing among all their assets for that period of time. With Bitcoin rising 96% by 2019, the prospects are bright and wide. For those who thought nonprofit cryptocurrency wouldn't work, Bitcoin is surely turning the tables. As far as appreciating assets go, it rarely gets as good as this!
Is it hard to accept cryptocurrency donations?
No, it isn't. Most nonprofits can begin accepting donations via cryptocurrency with some simple additions to their fundraising process.
Granted, cryptocurrency can be slightly overwhelming at first. It's especially true if you intend to hold, trade, and perform transactions yourself. Besides Bitcoin, other digital currencies like Ethereum, XRP, Tether, and Litecoin are continually growing.
Nonprofit fundraising is hard enough as it is. And you don't need to add skill-requirements to an already challenging job. However, there is good news for charities who want to get into nonprofit cryptocurrency.  You don't have to be a cryptocurrency expert to accept donations. All you have to do is pick the payment platform that suits your organization, and you're good to go. So, you're handing over the technical aspects to professional platforms. It's a process that's both intuitive and easy to understand.
There is a range of cryptocurrency options, so it's important to determine which you will accept and understand how the process of conversion to cash works.
So, how do you start a cryptocurrency payment feature for your nonprofit? We've put together a guide-of-sorts below that'll take you through every step.
How can a nonprofit accept cryptocurrency donations?
As a nonprofit, you can accept cryptocurrency donations in a few different ways. You can opt for a payment processor/gateway, a personal wallet, or a hybrid that offers both features.
A payment platform is much more suited for nonprofits and charity organizations. But for the sake of clarity, let's get an overview of personal wallets and the hybrid model.
Personal wallet
You can use personal wallets to directly and manually control your cryptocurrency. So, it requires an in-depth understanding of how cryptocurrencies work and interact. You'll also need a good understanding of these Bitcoin and other cryptocurrencies' trends, patterns, and volatility.
It's a huge ask for organizations whose primary purpose is not in cryptocurrencies. But if you do go through with it, you can use web wallets (online), software wallets (downloaded), or even hardware wallets (devices).
Hybrid solutions for accepting Bitcoin and crypto donations
These solutions try to offer you components of the personal wallet and the payment processor. So, they'll offer you better tracing features for donations and blockchain transactions than a payment platform. And they'll have a better interface and user experience compared to wallets. However, they don't offer the dedicated management of payment processors or the total independence of wallets.
Payment Processor
A payment processor is easily the most preferred choice for most nonprofit fundraising. You get the advantage of fast and simple modes of accepting donations. But more importantly, these platforms can accept, hold on to, or sell your cryptocurrency for you. So, they allow you to quickly and safely accept cryptocurrency and get it converted to fiat currency (E.g., USD)
So, it's like a third-party service that does the job for you, but with technical expertise and better security. And it makes complete sense in the context of nonprofits. You wouldn't want to risk managing your currency without a good understanding of the industry.
Since these processors behave like centralized services, there are some requirements. For instance, they may perform KYC (Know Your Customer) procedures that discourage fraud and promote genuine clientele. Also, there might be AML (Anti Money Laundering) regulations. AML clauses aim to prevent illegal funds and illegitimate proceeds.
These steps are additional hoops you'll have to jump through to use the platform. However, it also ensures better security for you and your donors. And when you're dipping your toes into unfamiliar territory, these regulations mean more security for your donations.
As a bonus, we're providing you with insights on three of the most efficient payment platforms available today.
What payment processors can handle Bitcoin donations for nonprofits?
1. Engiven
Engiven is a platform specially designed for 501(c)3 nonprofits to easily manage their cryptocurrency donations. One of the best features is the live dashboard that lets you track your donations transparently and easily. Some of their other great features include:
They take only 2-3 business days for ACH transfers to your bank account.
Engiven offers free signup and a setup process that takes barely 10 minutes.
They don't have hidden fees or contracts.
They charge a flat 4% fee for converting digital currency into fiat.
Their platform allows you to accept donations in 24 different tokens of cryptocurrency.
2. The Giving Block
The Giving Block is the go-to payment solution for over a hundred nonprofits and universities that accept crypto donations. It's a comprehensive ecosystem that nurtures nonprofit cryptocurrency. Some standout features of The Giving Block are:
They have a convenient auto-conversion tool that gets you your dollars quickly.
They also offer an Easy-to-use donation widget.
TGB automates the donors' receipts for immediate information and clarity.
They offer campaigns like #BitcoinTuesday and other nonprofit fundraising initiatives. These efforts can really help your cause.
They offer easy adoption of related platforms like PayPal, Cash App, etc.
3. Bitpay
Bitpay is currently one of the most powerful platforms for managing nonprofit cryptocurrency. Starting as early as 2011, Bitpay has an arsenal of enterprise-grade tools and leading industry-experience. They are easily one of the most comprehensive solutions for Bitcoin donations available today.
They offer free and easy integration for your hosted donation pages/buttons.
Their BitPay card gives you convenience in spending too.
Their global reach gives you access to new and emerging markets.
They ensure that Bitcoin volatility does not affect your converted amounts.
They have a non-custodial wallet that allows you to have some autonomy in managing your currency.
So, these three payment platforms are the ones to watch if you're following the trends on cryptocurrency donations. If you're about to foray into the industry, few other services can match these three platforms' advantages.
5 Reasons you should consider accepting cryptocurrency donations today
If you're still on the fence about getting into nonprofit cryptocurrency, here are a few more reasons why you should reconsider right away.
Cryptocurrency is a phenomenon that has the potential to become as far-reaching as the internet itself. For any emerging industry, the early birds always reap the most benefits down the line.
Nonprofit fundraising will inevitably require a good knowledge of finances. Cryptocurrency donations allow you to tap into digital finances and virtual money, which continue to grow bigger every day.
 Holders of Bitcoin and cryptocurrency generally do not convert to fiat money immediately. So, you have a better chance at crypto donations rather than waiting for these well-wishers to hand over cash.
Using a reliable payment platform (Engiven, BitPay, The Giving Block, etc.) offers more stability today. So, you can convert the donations immediately before the value drops.
You offer your donors an anonymous route of making donations if that's what they prefer.