Nonprofits Decoded is a reader-supported publication. When you sign up or buy through certain links on our site, we may earn a small commission at no cost to you. View our ethics statement.
A domain name is the equivalent of your contact phone number. It's your nonprofit website's online address. Without a unique domain name, site visitors would need to remember your IP address. Instead of typing your IP address composed of a series of complex numbers into a browser, you only need to type in the domain name.
Registering a domain is a cost-effective and easy way of establishing the online credibility of your nonprofit organization and one of the easiest steps you'll take on your technology journey.
Not only do domain names add credibility to your business or brand, but they make it easy for visitors to find you and attract new visitors through annual appeals and campaigns.
Why do I need a domain name?
Domain extensions are an excellent way of expressing your nonprofit creatively and vividly. For nonprofit organizations (NPOs), the key benefit of a unique domain name relates to fundraising and donor engagement. When choosing a cause worth supporting, donors often look at your website to verify whether their donations will benefit credible nonprofits and causes.
If an NPO doesn't run a website, it becomes difficult to gain donor's trust or demonstrate your credibility as well as market your mission. When building a reputable website, the first step is to choose a solid and impactful domain name.
For a nonprofit organization, you will want to choose a domain name that's not only branded but easy to remember. If related domains such as .NET or. COM is available; you might want to consider buying them up along with the one you intend to use.
Before trying to register a domain name, make sure the name is available. You might not be able to use an already registered domain name unless you can work out some modalities with the owners beforehand.
Should I register a .COM, .ORG or something else?
When building your nonprofit website, a domain name goes into creating a robust online presence. The .org domain is a top-level domain (TLD) launched in the mid-1980s. .ORG was among the first widely available domain to internet users. Together with others such as .COM, .GOV, and .EDU, .ORG ranks among the most credible and trusted domain names for NGOs, charities, nonprofits, and social enterprises globally.
In 2015, the Public Interest Registry launched the .NGO and .ONG domains. The .NGO and. ONG domains are more recent additions to a crowded digital world that nonprofits can use. These domains are the only dedicated online space reserved for validated NPOs. These are essential domains as they provide instant credibility to organizations seeking to be part of a global movement that promotes increased transparency and accountability.
The registration process for the .NGO and .ONG domains differ substantially from the widely used .ORG domain. Only legally recognized NPOs can buy and use the .NGO and .ONG domains. And similar to .EDU and .GOV, charities, nonprofits, NGOs, and ONGs, seeking these domains must go through a process of validation.
The domains, .NGO &.ONG lend credibility to legal and legitimate nonprofit organization vying for donations online. The simple vetting process and eligibility standards are designed to help potential donors know that your nonprofit has met the requisite basic criteria and is worthy of receiving a donation.
All organizations and nonprofits that purchase new .NGO & .ONG domains also gain membership to OnGood, an online community where they can create profile pages and accept online donations when you register under .NGO &.ONG, donors will immediately know that you have been validated and verified.
Where should I register a domain?
While the .ORG domain will maintain its place in the community service sector, it's not validated and is open to all people and organizations.
Anyone is free to register for a .ORG or .COM domain name, and consequently, there is a mix of for-profit and nonprofit entities using these domains.
In contrast, only validated and verified nonprofits can register under the .NGO and .ONG domains. The validation process involves submitting paperwork that proves your Nonprofit is legal.
After you have generated several possible domain names for your nonprofit organization, initiate the name registration process. Depending on the name availability and extension used, the price of domain names varies.
When researching availability and costs, remember that investing in your online presence strengthens your NPO's, therefore, increasing your volunteer base, lead generation, and donor engagement.
Buying domain names, the top domain registrars
Although purchasing a domain name is relatively simple, finding a name that isn't taken can be challenging. There are many domain registration sites, including the following:
Hover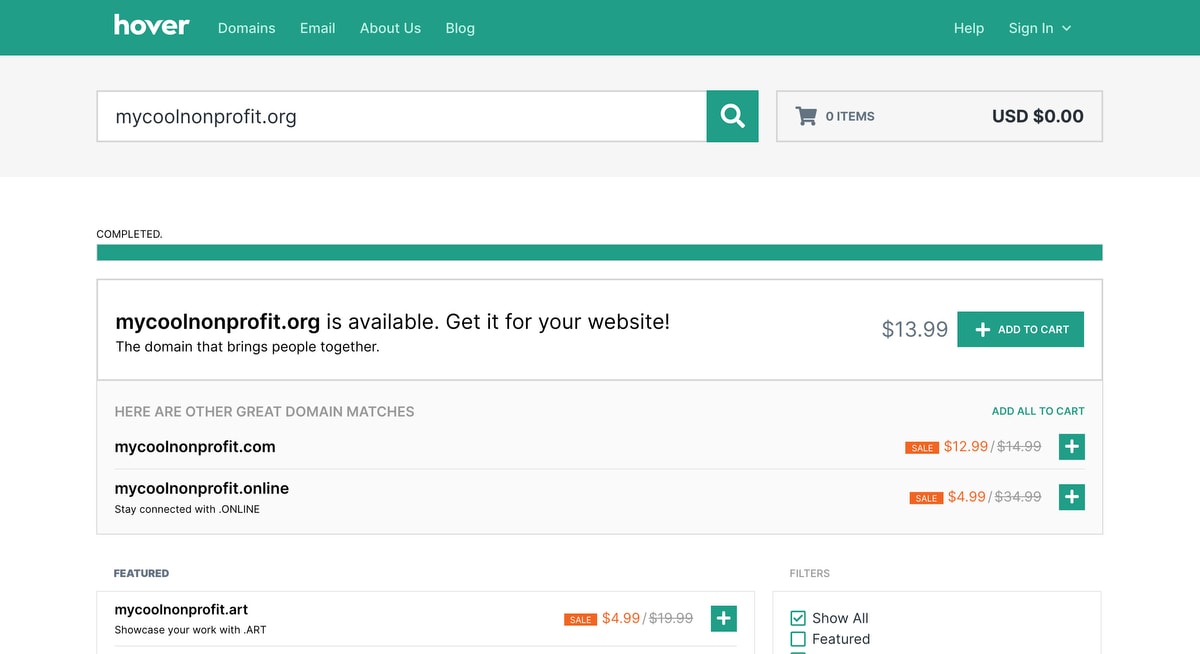 Hover supports fast domain search without trying to upsell stuff you are not going to need. The control panel on Hover helps you to manage your domains and services. The focus of Hover is on making the task of finding and registering the perfect domain easy.
Hover provides you with the tools and features needed to manage your nonprofit web domains, email accounts, and DNS, without the "bloat" some others have.
From connections with Google Workspace and Microsoft 365 to popular nonprofit web hosting options, Hover is easy to use and intuitive whether you are just getting started or a web pro.
Google Domains
If you want a service to help you register a domain name, one of the best options is Google Domains. With Google Domains, you can register the domain name you are using with your WordPress site or any other website.
You not only can buy and transfer but manage your domains efficiently. Google Domains directly connect you with website builders such as Shopify, Weebly, Wix, and Squarespace.
You can use Google Domains to create up to 100 email aliases and forward traffic to other websites. You can also easily create and connect Google Workspace accounts or Google Workspace for Nonprofits accounts via Google Domains.
Google Domains, however, isn't available in all languages, countries, or regions.
Unlike many other popular domain registrars, Google Domains doesn't provide any hosting, which means you'll have to buy hosting separately. While Google Domains is not always among the most affordable domain registration options, it's among the most transparent when it comes to pricing. Google Domains is more affordable compared to many other popular domain extensions.
GoDaddy
Buying a domain name from GoDaddy is easy using their domain name generator and search tools. The GoDaddy new domain extensions allow for the creation of location-specific or extra-catchy names.
GoDaddy is more than a mere domain registration solution. They offer everything needed to create an online presence including an intuitive website builder. If you already have a site, they offer secure, fast hosting plans.
If you opt for GoDaddy, word of caution, be prepared to receive many marketing emails and calls unless you already have an existing relationship.
Dreamhost
If you are trying to build confidence and credibility, there's no better way than a DreamHost's .ORG domain registration.
Dreamhost allows you to create as many subdomains as you want to customize your nonprofit website. With your new .ORG domain name from Dreamhost you'll also get hosting, email, or both. With Dreamhost, you have full control to forward your domain to any of your existing websites.
The Dreamhost plans are great for WordPress sites, small websites, and even sites with millions of visitors monthly. Those already hosting their nonprofit website with Dreamhost also get to benefit from a domain registration discount.
Ready to find your perfect domain name?
It can be easy to think that once you have bought and registered a domain name, it's yours forever. This, however, is not necessarily the case.
Therefore, research what you are getting into before paying. For example, you get be getting into a contract that requires monthly or annual payments.